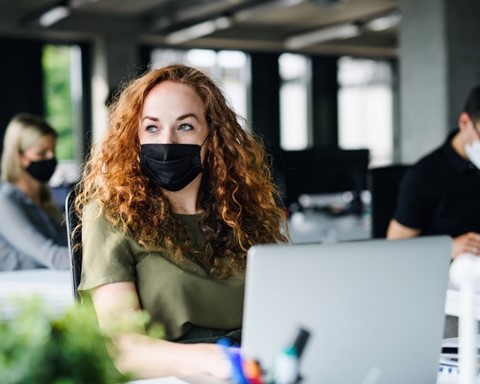 A record 95% of American employees were forced to adapt to stay-at-home work measures since the virus began its attack early this year. Almost 47 million, since then have filed for unemployment in the US as the virus wreaked havoc during the lockdown months.
Amidst the crisis, healthcare, eCommerce, logistics, technology and telecom were certain sectors that were bursting with activity and witnessed a reverse effect. This sent them on mass hiring sprees at a time when other industries largely took on a more cautionary approach.
Companies like Walmart, Amazon, Ace Hardware, CVS Health, Lowe's and more went on the hunt to fill in over 604,000 open positions since the COVID-19 pandemic disrupted business all over the world.
Hospitals hired retired doctors, nurses or medical students to fill massive staff shortage created by COVID-19. And as more and more people turned to stock up their 'pandemic pantries' rather than popping into their neighborhood mom and pop stores, the likes of Walmart, Amazon and Albertson's heavily recruited to meet the rising demand of home deliveries at their fulfilment centers.
But with the effects of quarantine kicking in, companies are having to rethink their hiring practices by putting an immediate stop to face-to-face interviews and related talent acquisition systems.
Therefore, the question is – 'how will companies find their ideal candidate when traditional recruitment is out of the question?'
How Coronavirus Has Streamlined The Way Workers Are Recruited?
There's nothing like a crisis to focus the mind. Even though the general trend is to downsize in a recession brought on by the outbreak, the opportunity is waiting to be seized. Companies that utilize this time to make strategic talent investments with a progressive focus will come out of the recession better positioned than their counterparts.
Regardless of the external economic climate, the best leaders will use this opportunity to their advantage to bring onboard new architects and firefighters to salvage the old and build the new.
Aman Brar, CEO of talent recruitment platform Jobvit told CNBC, "Today's recruiting environment has never been more challenging. As a result, recruiters are leveraging a variety of methods and tactics to connect with prospective candidates."
Seizing the Opportunity
Jeff Bezos repeatedly reinforces that the success of a company depends on hiring the right resources.
While the pandemic has created an unprecedented economic fallout with millions of job losses across the globe, visionary CHROs will look to capitalize this as a once-in-a-lifetime recruitment opportunity. So, it best not to be short-sighted in terms of crisis management but emerge as long-term thinkers by targeting the sort of talent that will help the organization to not just survive but thrive.
Many sectors like hospitality and services, airlines, start-ups, recreation and entertainment industries have been hard-hit. So, now is the time for CHROs to double their efforts and get their top-line recruitment specialists to scout for the most outstanding talent in key organizational functions.
Digital Hiring & Collaborations
84% of recruiters are quickly adapting to technology as the search for talent begins again. Virtual processes are the norm with 58% of hiring managers increasingly depending on using networks like Facebook, LinkedIn and even Instagram to connect with potential candidates or create virtual job fairs.
This is also the time to invest in automated, touch-free recruitment solutions. Companies with limited bandwidth may opt for ready-made videoconferencing software like Zoom, Skype or Google Hangouts to conduct their screening and interview processes. Others may choose more specialist platforms to measure performance in terms of recruitment and engagement when interviewing candidates.
A machine learning interview service like Harqen providing live and on-demand videos for job interviews has been climbing the popularity ladder among recruiters in recent months. The platform uses its automation capabilities to evaluate applicant interviews and returns with a score and rank comparing it similar candidates in the hiring pool.
Not only does this allow talent acquisition teams to assess and compare options but helps to align their hiring goals with organizational objectives and streamline it better with the use of technology.
Tim Ihlefeld, CEO of Harqen says, "Ultimately, the recruiters and the hiring managers make the decision — we're just trying to compress and advance the process and provide the best recommendation for them to act on."
Changing Times Impacting Work Culture Of The Organizations
Assessing a candidate's cultural fit with the organization can be difficult to accomplish via a virtual recruitment process. Other than being absolutely honest with potential hires about the environment that they are expected to be a part of, companies can design innovative and creative solutions too.
David Landau, Director at accounting recruitment firm Richard Lloyd told HRM, "We came up with 15-second video app that allows candidates to bottle their personality. It's a great way to get a glimpse into the candidate's personality, humor, and communication and presentation skills."
Plus, asking candidates about their former or current employer's response to the pandemic and their view on the extent of the impact on the company's work culture makes sense. This helps to evaluate the level of support that the candidates expect of their new employer when they start in their respective roles.
Staying On Top of the Curve
Even in times where labor cost efficiencies are the focal point, any knee-jerk, short-term reactions to recruitment can leave the business more vulnerable in the future.
Tamara Sigerhall, Market Leader for Korn Ferry's professional search division across ASEAN told People Matters, "HR leaders will need to ensure that whatever adjustment they make to their approaches and policies now, does not stifle their organizations' growth in the future."
Safety over speed is what companies should be practising as they move on with their recruitment strategies in a post-COVID world.