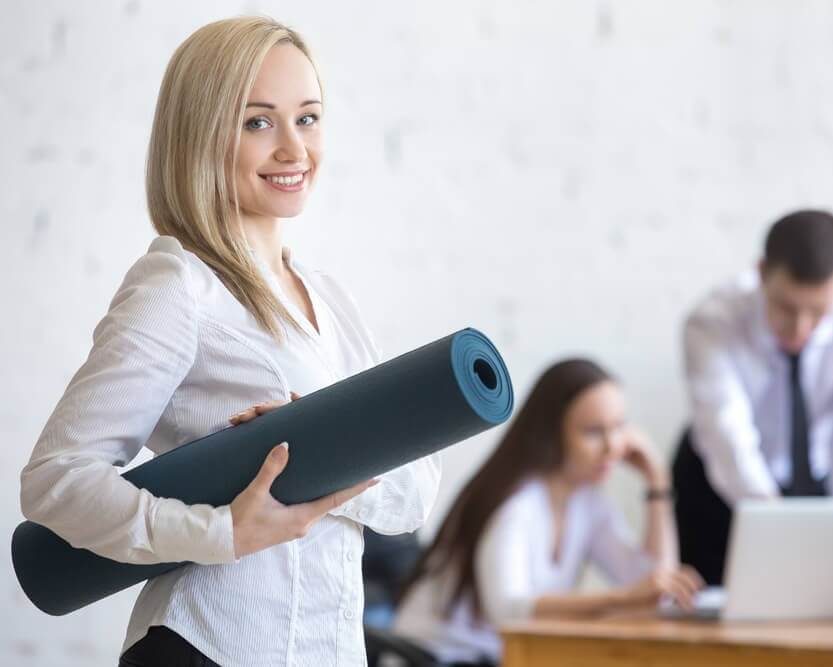 From futuristic sleep pods to healthy snacks and meals as well as diet and life coaches, many companies are pulling out all the stops to keep you fit at work.
Jokes about dictatorial workplaces abound and are the cause for many a chat at the coffee machine. But wait till you listen about this one workplace: the CEO requires all able-bodied employees to participate in a mandatory weekly training session; he goes for a daily morning workout session with kayaking, wrestling, CrossFit and more; and the office has chair-free conference rooms, healthy snacks, meditation classes, and guest lectures from life coaches. The daily workout is mandatory, excused only if you are sick or incapable of walking.
Sounds tough? The most interesting part is that the workout session is very popular, and the employees themselves swear by this culture. And possibly the less-important bit – though very interesting – is that the company is named Borg (yes it is named after the Swedish tennis legend Bjorn Borg), which is the name of a fictional alien civilization in Star Trek described by the Star Trek Encyclopedia as a society of "enhanced beings … linked together in a great collective."
Staying fit at work is in!
There is a growing preference for staying fit at the workplace. Borg is just one of many companies that wants its employees to be fit and thereby efficient and happy. Take a look at what other companies are doing in this regard:
Unilever: The "wellbeing zone" here is a pointer to employee health being a top priority. This zone seeks to serve as a space for meditation, mindfulness, rest and recovery. It includes a "Connection Bridge" for comfortable conversations; a "Movement Zone" for massages, yoga, and more; a section stocking free healthy snacks; and a sound-free zone where you could get some rest.
Nike: The huge campus of the Oregon-based sportswear major is home to a number of fitness centers. A cross-training room, weight rooms, and yoga studios are available in the "Bo Jackson Center", Nike's original fitness center; or you could go rock-climbing or swim in an Olympic-size swimming pool at the "Sports Performance Center". There are also a number of running trails and tracks.
Google: Can this tech giant possibly not be part of any conversation? It is known for its expansive perks for employees, and its Silicon Valley campus has juice bars, intramural sports, and free fitness classes, as well as futuristic "nap pods" where you can catch some shut-eye in the middle of your workday by snoozing in a pod to the accompaniment of soothing noises. And good work gets you "massage credits" from your manager!
Microsoft: The employees here have access to gym memberships, sports facilities, a spa, and the on-site "Microsoft Living Wellness Health Center" offering free health screenings, flu shots, diet counseling and a lot more.
Sedentary is out!
This affinity towards fitness at work has come about as a result of increasing awareness of how our current sedentary lifestyles coupled with ballooning stress levels are wearing us out and proving costly to both employees and their employers. The human body was never really meant to take an 8-10-hour workday sitting in a chair and staring into a screen, typing away furiously. Sitting down slows our metabolism hugely, and when done in excess, is the cause of the second-biggest reason for missing work: back pain. Other smaller ailments that come knocking and then never really leave, are heavy legs, aches, chronic fatigue, and more. And yes – it can get more serious than that, with so much sitting ultimately possibly leading to obesity, diabetes, heart disease and other ailments combining forces to make physical inactivity the fourth leading risk factor for global mortality, as declared by the World Health Organization. Presenteeism, or continuing to come to work for fear of falling behind or being judged, despite poor health, in fact, exacerbates poor health and could be worse for a company than absenteeism.
So, exercise at work is good?
There is no disputing that fitness is essential for everyone, particularly so when at work. Devoting some time every day to sports and other physical activities has been proven to be beneficial in myriad ways:
Mental benefits
The release of endorphins, or "calming" hormones, into the body lets you de-stress and produces a feeling of pleasure.
Endurance sports in particular boost circulation of oxygen to the brain, thereby helping to improve cognitive skills.
Physical benefits:
Cardiovascular health improves and blood pressure is regulated.
Breathing becomes better.
Joint problems are prevented and toxins are eliminated.
Other illnesses are prevented.
Has this helped companies?
Definitely! The WHO recommends at least 30 minutes of exercise every day, something that 25% of adults across the world fail to meet. Companies that introduced wellness programs for their employees reported clear payoffs for both the employees and the business. Amazon Japan and Japan Airlines are but two such companies.
At Japan Airlines, Yoshihiro Yamaoka, Chief Director of Health, said that employees are healthier and the company now registers fewer sick days and medical insurance costs, five years after initiating the program. "Healthy employees bring a lot of merit to our business because not only it increases productivity, we can keep employees to work our company for a longer time. Also, being healthy leads to better service to our customers."
At the Hong Kong base of global cybersecurity company Chengbao, the conference room, like many other rooms, has small sensors on the table to measure the level of fine particles in the air. The premises have six air purifiers, and screens display up-to-the-minute air quality data. "We are very concerned about air quality – if the air is bad, that means everyone feels tired," explains Varona Chan from the internal recruitment team. Unhealthy levels of indoor particles mean that the air cleaners are cranked up.
Stay fit, work fab!
Clearly, there is much to gain when you can stay fit at your workplace. Borg has of course taken it to the next level, even removing chairs from the conference rooms, as the CEO felt everyone was sitting all the time! Short of a natural or personal calamity, nothing excuses anyone here from the fitness activities. The Chief of Human Resources says: "We believe that if we are living our brand, which means our strongest version of ourselves, that's when we can add value in every small detail of the business." So, hit the ground running – literally and figuratively – when you begin your workday!