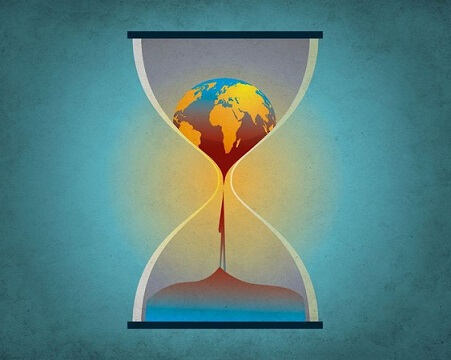 Climate change is no illusion, and the effects are all there to see! Individuals and workplaces must come together to save the environment while keeping business going
To most people, Greta Thunberg is two words you might find hard to pronounce, and could be a person, a place or what have you! Read any news about the world environment and climate change, though, and hers is a name you are bound to see more than once. Thunberg is a 14-year-old schoolgirl from Sweden who, on August 20, 2018, went and sat down alone in front of the Swedish Parliament. Along with her was a sign that read, "Student Strike for Climate".
Her weekly actions began to get noticed, and soon, thousands of students around the world were joining in. By March 15, 2019, the movement had grown to include 128 countries on all seven continents, with 1.5 million students from 2,233 towns and cities. Thunberg and her fellow student strikers are now asking grownups to join the strikes too, the first of which was held on September 20, 2019, and the next on September 27, 2019.
So, what is the strike all about?
The climate change activists organized the strikes such that the UN Climate Action Summit 2019, scheduled from September 21-23, 2019, falls pat in between. As part of the strikes, employees of companies around the world are being encouraged to go on strike for a day and walk out of their workplaces. The goals are two-fold:
To raise awareness of the emergence of global climate change
To send an unequivocal message to authorities that remedial action is of the essence, and that it can wait no longer
Just another strike, then…
Quite unlike just another strike, in fact. Over the years, there have been strikes by workers, doctors, train drivers, pilots, taxi drivers, and what have you. These have typically related to matters such as work conditions, pay levels, and health and safety.
The issue at hand is one that is much, much bigger, and its impact cannot be underestimated. The global climate emergency is an issue affecting all of humanity, and this is what makes the strike different. The issue is beyond anyone employer or industry and is not a protest against some conditions imposed by a particular employer.
Is the issue really all that worrisome?
It most certainly is. For many years, there has been a lot of talk, climate change deals that were devoid of real substance or were not followed through, fossil fuel companies enjoying a free reign to profit from the resources hidden deep beneath the soil and make their money, erroneously believing that the problem would be dealt with when it happens.
In 2018, a special report on global warming was issued by the UN Intergovernmental Panel on Climate Change. The report was clear on the unimaginable dangers of global warming breaching the 1.5°C mark, and it suggests that in the next 12 years, the world must be completely transformed to achieve this goal.
There is an urgent need for emergency action to avoid a breakdown of the climate. Government policies, inaction, and compliance have in their own ways contributed to a 1°C rise in global temperatures from pre-industrial levels, with 1.5°C estimated to be the likely tipping point. There needs to be a clear pathway to stay below 1.5°C, and an end to the use of fossil fuels is one of the demands of the strikers, in addition to other measures.
Okay – so it is critical. How does one organize a climate strike at the workplace?
Good – now we are talking! There are numerous things that can be done. At your place of work, break up your plan into the following:
Get started
Begin the process through, say, a newsletter, an email list, or a discussion over lunch
Check if your employer requires to be notified of such actions, and the legal implications therein
Suggest ways in which your fellow employees could join the strike
If you have an employee union at your workplace, approach the union for help, support, and ideas
Put across a resolution or a proposal to your employer
Once there is an initial plan and interest in place to support it, make a formal proposal to your employer, suggesting why and how you should join the strike. Work out a mutually agreeable arrangement, reminding everyone that business cannot continue as usual given the urgency of the situation.
Publicize your employer's support
Request your employer to communicate their support widely, through tools such as newsletters, emails, social media and more.
This makes sense! What are other companies doing?
A lot! Take a look at what has been happening:
Amazon
Since late-2018, some workers within Amazon have been pushing the company to radically reduce its carbon footprint. Many Amazon workers around the world declared they would be joining the Global Climate Strike, with at least 1,000 already signed up ahead of the actual dates. The organizers put forward three demands:
Commit to zero emissions by 2030
Terminate all custom cloud computing contracts with fossil fuel companies
End all funding for bureaucrats and lobbyists who are complicit in denying the existence of the climate change problem or are exacerbating it in their own ways
Google and Microsoft
Employees at Google too announced their support for their tech counterparts at Amazon. A tweet from the Google Workers for Action on Climate Change group stated the following:
"@GoogleWalkout: Google workers will be joining workers from Amazon, Microsoft, and more in the Global #ClimateStrike. Give @GoogleWAC a follow to stay up-to-date! They've got more details coming. #GWAC https://twitter.com/GoogleWAC/status/1172962371360309248"
Other companies
There are numerous others too who got on board:
Ben & Jerry's, the ice cream MNC, announced it would close 35 stores across Australasia as well as its US stores for the strike, and pay staff to attend the protests
Republic for Everyone, an Australian marketing agency, said it would be closing its business for the day
Software giant Atlassian said it would make it as easy as it could for its staff to attend the protests
Can I take any safe action at work?
You sure can! Consider the following:
Get your company management to shut down for the day, or at least for some part of the day, in support of the movement
Organize your own protest during your lunch break outside or near your workplace, or maybe call in sick or leave early so that you can participate
Share a selfie in solidarity with the movement, and tag it #climatestrike
If you can mobilize support from other colleagues, you could have a silent period at work, where you literally are silent, to show your support
Plan for post-strike action: The strike will come and go, so plan for later too. Contact local groups or see what else you can do to be part of climate activism