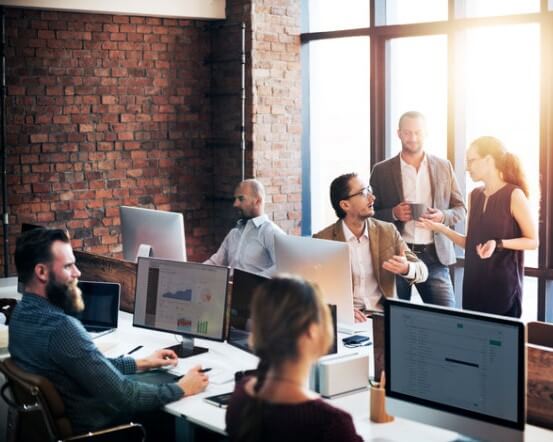 Human Resources transformation drives business transformation. Know how to create a business environment to drive human resources transformation.
Whenever companies get separated from others, or the new Director or CEO joins the team, they focus to change the structure and process. It was so until recent years. But now we see a trend toward employee-centric human capital practices. Corporates are working hard to engage and retain their staff.
With a business environment that is changing at a faster pace, Human Resource (HR) leaders play a key role as the catalyst to align the organization's skills with technological disruption and stay competitive. Emerging technologies are Artificial Intelligence, Big Data, Robotics, Computing, and Blockchain.
In an era where digital transformation is at the center of business, everything needs to be aligned accordingly. Earlier the life span of a career was sustainable for about 60-70 years. In present times, professionals are bound to polish their skills every five years. Organizations are facing radical change due to technology and innovation. About 70% of companies do not have the skills to adapt reflecting the fact that employee skills are turning obsolete.
Agile methodologies keep evolving, hence HRs are expected to emphasize growth mindset, design thinking, fresh approaches to status quo, and inventive behavior to stay ahead of the curve.
HR also take an active part in changing the operating model, encourage innovation, and promote a performance culture in the organization. HR functions have the opportunity to transform itself as an enabler of business outcomes through people.
Yes, HR transformation is talked more to lay the foundation for success. They are expected to be –
On the frontline conducting interviews, recruiting, and handling employee relations
At the top, setting strategy for corporate culture and employee experience
At the leadership level, defining career paths and preparing the pipeline of future leaders
Best human resource leaders look forward to an approach that helps employers to know how, when and where they can engage employees. New policies and practices are designed to increase productivity for the employer and create an impact on company loyalty. This article focuses on how the HR transformation drives business transformation.
Approaches toward HR Transformation
A measured approach to organizational design through HR transformation is the key to success. It is suggested to put the employee at the center while architecting a holistic transformation. Linking company strategy to HR strategy is the rule.
Some of the approaches working toward HR transformation are as briefed below.
Automation
Automation helps in enabling smooth delivery of HR work throughout the employee lifecycle. Taking advantage of the cloud, advanced analytics, robotic process automation, artificial intelligence, chatbot capabilities, and machine learning helps the HR team to plan and strategize talent acquisition.
It improves processing and data sharing, prepares risk-free policies, makes intelligent business decisions, collaborates with stakeholders. Automated HR tools provide actionable insights, omnichannel access, quick integration, risk mitigation, automated alerts, and dynamic workflows.
Keka, BreatheHR, CavinHR, PulseHRM, and SigmaHR have been positioned among the top automation tools used by human resource organizations around the world.
Digitalization
HR transformation needs a culture of compliance. Business software platforms can help the HR function navigate the complex global situation. Social media tools enable HR leaders to see what employees are saying and use them to drive proactive HR engagement. This helps HR to spot trends and prevent the appearance of compliance issues and its escalation.
For instance, social platforms like Yammer, Slack, HipChat, and Workplace by Facebook are names of a few renowned social networks specially designed for employees enabling you to collaborate, solve problems, or exchange feedback, and corporate goals and challenges.
People solutions and services
This is a new sub-domain in the HR field intended to accomplish complex and operational specialist work. They focus on compensation, benefits, core HR practices, talent acquisition, talent management, and other related work areas. It takes care of process administration and routine operational tasks.
This initiation speeds up the core HR tasks and leaves ample time to think of the organization toward its destined goals.
Zoho People is one perfect example demonstrating the services it provides – attendance management, leave management, mobile app, time tracker, roster management, performance management, learning management system, employee self-service, form customization, real-time collaboration, centralized employee information, HR analytics, and e-signature.
Other HR services platforms include names like WebHR, OrangeHRM, and Bitrix24.
Mobility
Mobile HR technology enables professionals to push time-sensitive information and tasks to the concerned authority. It facilitates corporate communication, employee self-service, and manager self-services. Direct digital access enables the team to get engaged outside the traditional office environment. This prompts to encourage diversified workforce too. It leads to positive employee perception that the organization invests in technology to make work-life better.
One can imagine how tethered we all are to our mobile phones; thus, it shouldn't be a surprise for employees using HR services via smartphones. A significant number of employees are already turning to mobile apps to access pay information and other related HR functions.
Innovation hub of HR
The organization must promote innovation within the HR zone too. They act as agile consulting teams who can solve the business problem(s) and set the strategic direction to engage the right talent. The services include people analytics, workforce planning, organization design, leadership, employee experience, total rewards, innovation challenge, and culture.
They understand how value is created and destroyed across organizational value chains and work to improve from the top - and bottom line.
Great organizations like Blue Prism, B-Reel, Charity: Water, Attivo networks, Ansy, Xinova, WeTransfer, Merck, and Versa are already transforming initiatives within their organizations.
The endnote:
At this juncture, HR requires to work end-to-end. This includes talent acquisition and management, on-boarding, fuel up organization culture, act as business strategic partners, maintain leadership pipeline, and work toward building a high-performance team.
In a nutshell –
HRs hold complete responsibility to create capacity and capability to boost business functions.
They need to develop a mindset to break down siloes and engage with other functions to deliver great business value to the company.
A consistent demonstration must be developed by HRs majorly focusing on how people investment creates an impact on businesses.
HR effectiveness must be measured by the virtue of value it delivers to the business and the employee. Capitalizing on opportunities like digital operating models, intelligent automation, leveraging the available best opportunities, and crystallizing the accountability for the work process is the go.
This will make HR transformation be worth it at the professional and organizational level.