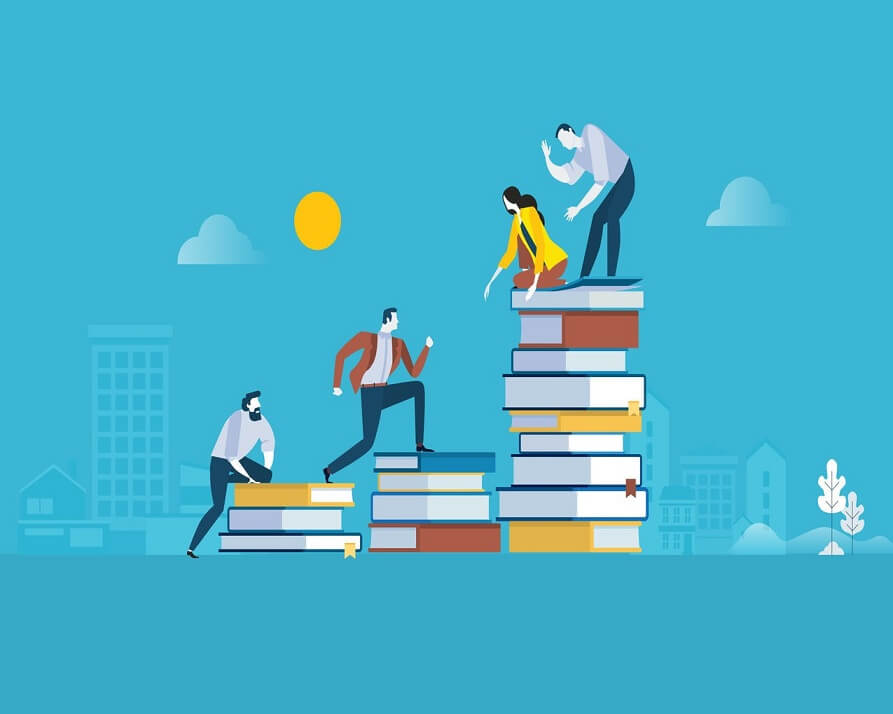 Technology adoption has been changing the world of work, with the pandemic accelerating the shift. Building up skills of the future is key to business success.
COVID-19 is a huge health crisis! Yes – but not just that, it has led to a near-overnight change in how we get work done. Transmission worries have meant companies have cut back on or eliminated the need for any employees to work from the office premises. As lockdowns ease and we get used to this 'new normal', the new work model too has gone from a temporary measure to a blueprint for the long term.
Technology and new work styles have been disruptors long before the current crisis, though. Consider the following statistics:
Nearly 14% of the global workforce will need to get new skills or switch occupations by 2030, due to automation and artificial intelligence (AI) (McKinsey Global Institute, 2017)
About 87% of executives currently see or expect workforce skill gaps; under 50% knew how to deal with the problem (McKinsey Global, 2020)
Reskilling and upskilling will form a significant chunk of efforts to strengthen talent pipelines for the future, as per 82% of employers
About 74% of people expressed their readiness to pick up new skills or to be retrained fully, to maintain future employability
Industry 4.0 is the key… or the culprit!
The fourth Industrial Revolution has affected the skills required and the jobs performed. The resultant displacement and shortage of talent are bound to have an impact on dynamics of business and cohesiveness of society – automation has affected the labor market, and integration of technology has led to modified business models and new types of jobs. The 2018 'Future of Jobs' report from the World Economic Forum (WEF) predicted automation displacing 75 million jobs by 2022, along with 133 million new roles coming from demographic and economic changes.
Shortages of jobs and of talent loom large… and a concerted effort on reskilling and upskilling is in order!
The US Bureau of Labor Statistics (BLS) projected that 1.37 million workers would be completely displaced out of their roles over the next decade. They could, however, be reskilled to possibly higher-paying roles at a total investment of USD 34 billion, or USD 24,800 per worker. And US companies are going big on technology adoption! According to the 'Future of Jobs' report, by 2022, 89% of the companies planned to invest in user and entity big data analytics, 80% in the Internet of Things (IoT), and 75% in machine learning.
It would seem that simple, but it is not. Two factors trip up the pursuit of full productivity from adopting technology:
Skills gaps in local and global labor markets
Declines, often drastic, in many established job roles
Workers need to adapt to the highly dynamic job market, while companies must figure out how to align them with new job roles. This goes beyond automation, AI, or remote work – it is about reskilling and upskilling workers as per evolving business models. The WEF has predicted the need for an average 101 days of reskilling and upskilling per employee up to 2022, with each skill having a shelf life of just five years, and soft skills being earmarked as skills of the future irreplaceable by AI, automation, and digitalization.
What is needed is a talent strategy preparing employees and employers for current and future disruptions, focusing on:
Cognitive and digital competencies
Emotional and social skills
Ability to adapt to change and deal with challenges
Employees want this! In 2018, the Boston Consulting Group (BCG) released its Decoding Talent survey of 360,000 employees, as per which members of the workforce value opportunities for training and development above interesting work, job security, and even compensation.
Skill-building is not a quick dash to the finish line; it is in fact akin to a marathon. Immediate business needs could be addressed by quick training initiatives, but a more well-thought-out strategy will go a long way toward building the future talent pipeline. The short term would have companies incurring reskilling expenses as well as full wages even with lost productivity, but then they save on costs of severance and hiring and can tap the improved productivity of the reskilled employees especially when compared to the low productivity of new hires.
So how does one go about upskilling and reskilling employees? Here are some great tips:
Business priorities must determine the plan for skill development, with due consideration to current and future needs. The business needs to identify groups of employees and other initiatives critical to driving future value, and accordingly project requirements for people and skills.
The plan must be drawn up with inputs from stakeholders across company departments, and it should leverage AI and other technology tools for planning as well as deploying workers accordingly. It must also be tailored to the needs of the specific industry and role.
Talent management should be a part of such development, as the reskilled workers ought to be evaluated at par with new candidates who could be considered for evolved job roles. The learning intervention must of course be evaluated by the employees and scored as per their satisfaction with and loyalty to such programs.
Do not pare your training budgets! Such actions may appear to save costs but are in fact only delaying the inevitable, as when there is a rebound (and there will be one!), a large skill shift – larger than previous crises – will be in order. It helps to be prepared for future demands by building an efficient and resilient learning system now.
The last word…
Every crisis has seen an impact on the workforce, and companies have had to quickly shore up the capabilities of the former. Technological shifts were already underway in the world of work, and COVID-19 has merely accelerated these. A broad agenda of reskilling and upskilling must look to enhance digital capabilities as well as skills in adaptation, cognition, and emotion. This is a key first step to successful recovery!