How to crack the holiday hiring code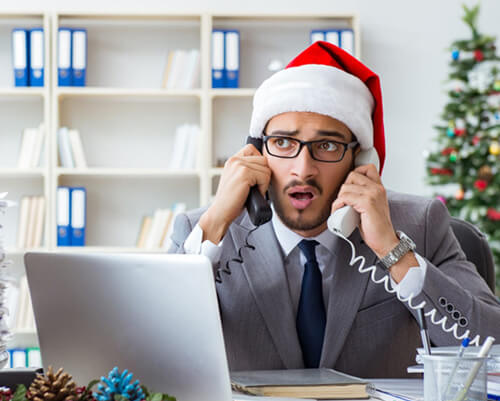 Getting the best people on board for the holiday season is often a worry for companies, but a well-thought-out hiring strategy could make this a breeze
Deck the halls with boughs of holly
Fa-la-la-la-la, la-la-la-la
'Tis the season to be jolly
Fa-la-la-la-la, la-la-la-la
No – this piece is not about Christmas, or about the tradition of carol-singing. It does, though, have a holiday connect, in as much as it is about holiday hiring. Let's look at some numbers to shed more light.
The fall season has just about begun, but retailers are well and truly wrapped up in the holiday spirit. A number of companies announced their plans for hiring in the holidays even before summer ended, and the demand for workers is high. Data from a holiday hiring survey by Indeed.com shows that there was an 11% rise in holiday job searches for every million job seekers in August, from the same time a year ago.
What are we talking about, again?
Holiday hiring. This refers to hiring people to cater to the rush of shoppers and other customers during the holiday season. Logically, this implies that the hiring would be of a temporary nature, as the rush subsides once the holidays and festivities have ended. Job postings for the holiday season typically have one or more holiday-related terms in the job title, such as "holiday," "seasonal", and "Christmas."
Why is it a source of worry?
The rise in searches for holiday workers is not necessarily a sign of an incoming holiday hiring boom. Sample this:
A recent report from Challenger, Gray & Christmas reveals that hiring for the full season is expected to either stagnate or fall this year
In 2018, the lowest number of seasonal hires were taken on board since 2009, despite a record number of announcements made by eager hirers
According to data from the US Bureau of Labor Statistics, retailers added 625,600 jobs in 2018, a 6.4% decrease from 2017 when hiring numbers reached 668,400.
Unemployment in the US is at a 50-year low: just 3.6% in Spring 2019. And there is always the sword of the ongoing trade war between the US and China, along with rumblings about a possible recession – hanging above the heads of retailers.
This has only deepened the shortage of workers in the holiday season. And the race to stay ahead of the rest when it comes to picking the best talent from among the limited numbers of jobseekers could create panic among other employers, especially those that are not big brands. The need to compete for talent in this holiday season is a possible source of great worry.
Why are fewer people being hired?
Hiring rates are lower than in previous years, in part due to the rise of e-commerce. This has affected the composition of hiring, with many retailers expected to shift seasonal hiring to transportation and warehousing positions. US retailer Target, for instance, has said it would dedicate 8,000 workers to its distribution and fulfillment centers (up from 7,500 from last year), and double the number of in-store workers who work on fulfilling e-commerce orders.
There are a lot of theories floating around!
You bet there are! Let us debunk a few:
Springtime hiring is preferred: Employees feel that companies prefer picking up candidates during Spring, due to more applicants, more available funds, and a fresh pool of graduates. This is not true, though, as, by the end of the year, many hiring managers need to either fill in vacant positions or lose the budget for them.
No permanent jobs left at the year-end due to holiday hiring: Companies are believed to have no jobs for permanent workers at the year-end, as they have spent their budgets on holiday hiring. This is inaccurate, as quarterly budgets separately account for holiday hiring and permanent hiring.
The truth is out there too, though!
Hiring managers are too busy: Hiring managers are believed to push off hiring until the new year period, to save money before closing the books on the budget for the previous year. This is true, as companies often want to save both money and time during the busiest season of the year.
There are no applicants: Some companies freeze their hiring during the holiday season, as qualified candidates are either vacationing or not applying actively due to their perception of too few available jobs. This is true, though it also means lesser competition for the openings that are available.
But what do temporary workers want?
Many things. Surprise, surprise: compensation and perks are low on the reasons for accepting one temporary job over another, with work hours and flexibility in scheduling being stronger factors.
Let us dive a mite deeper into what holiday hires want:
They hope to work for more hours than they often get
They often pick up more than one job, for the above reason
A majority begin their job search early – pre-October, often – and thus are not so worried about landing a job
Online job boards are their top choice for job openings
Interestingly, retail stores are preferred over restaurants, as the former offer staff discounts on merchandise. This means employees need to spend less on gifting!
So what should an organization do?
Plenty. Read on below for some tips:
Reach out to current employees, customers, and fans of the brand: They know the product and the company and are a robust source of talent.
Streamline the hiring process: Automated hiring systems and specialized hiring agencies are two of many ways that companies can save time and get ahead in the race for talent.
Offer more sign-on or completion bonuses and create flexible hours.
Include on-the-job training and clear job descriptions.